Murujuga Aboriginal Corporation (MAC) Rangers are helping to create a suite of university-level micro-credentials for monitoring the rock art of Murujuga – the first of its kind in Australia.
Developed by Curtin University in support of its participation in the Murujuga Rock Art Monitoring Program that is led by MAC and the WA Department of Water and Environmental Regulation, the micro-credentials can later count toward the completion of an undergraduate certificate or degree.
There are five micro-credentials in development, covering different components of the Murujuga Rock Art Monitoring Program:
• Passive air quality monitoring;
• Realtime air quality monitoring;
• Geochemistry;
• Spectroscopy; and
• Health and safety.
Each micro-credential requires 30 hours of online and in-person learning, plus practical learning and assessments that take place on country.
MAC Rock Art Monitoring Rangers Glen Aubrey and Kasziem Bin Sali – who have done on-the-job training in rock art monitoring over the past year – have participated in video content for the micro-credentials and will provide feedback on the courses as they work through them.
The Murujuga Rock Art Monitoring Program is investigating whether human-caused emissions are accelerating the natural weathering of Murujuga's rock art engravings. Read more here.
Comments attributable to MAC CEO Kim Wood:
"It is important that Glen and Kasziem gain a formal qualification that reflects the training and knowledge they have gained in the field working with scientific experts.
"In a few years, when the current phase of the Murujuga Rock Art Monitoring Program ends, MAC Rangers will play a greater role in rock art monitoring on Murujuga, so it is essential that we have a suitable formal training structure to support our Rangers."
Comments attributable to Murujuga Rock Art Stakeholder Reference Group Chair and Curtin University Indigenous Chair of Biodiversity and Environmental Science Professor Stephen van Leeuwen:
"Curtin University is responding to requests from a number of Aboriginal ranger teams, Aboriginal corporations and land and sea management organisations by developing an ecosystem of micro-credentials for subject areas that have been identified by Rangers and their partners as a priority.
"This will help them uplift their capacity and capability so they can continue to be the stewards of Country."
Comments attributable MAC Rock Art Ranger Glen Aubrey:
"The elements of my job that I enjoy are working on country to protect heritage and learning about the science.
"Some of the micro-credentials are technical and challenging, but it is good to have them for training other Rangers in the future."
For more information, email: communications@murujuga.org.au 
Watch MAC's video about the Rangers' rock art monitoring work here.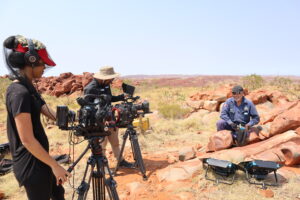 Photo: Ranger Glen Aubrey is filmed for the development of micro-credential course materials.